Courtesy Queensland Art Gallery.
Courtesy Queensland Art Gallery.
Courtesy Queensland Art Gallery.
Courtesy Queensland Art Gallery.
Courtesy Queensland Art Gallery.
Courtesy Queensland Art Gallery.
Courtesy Queensland Art Gallery.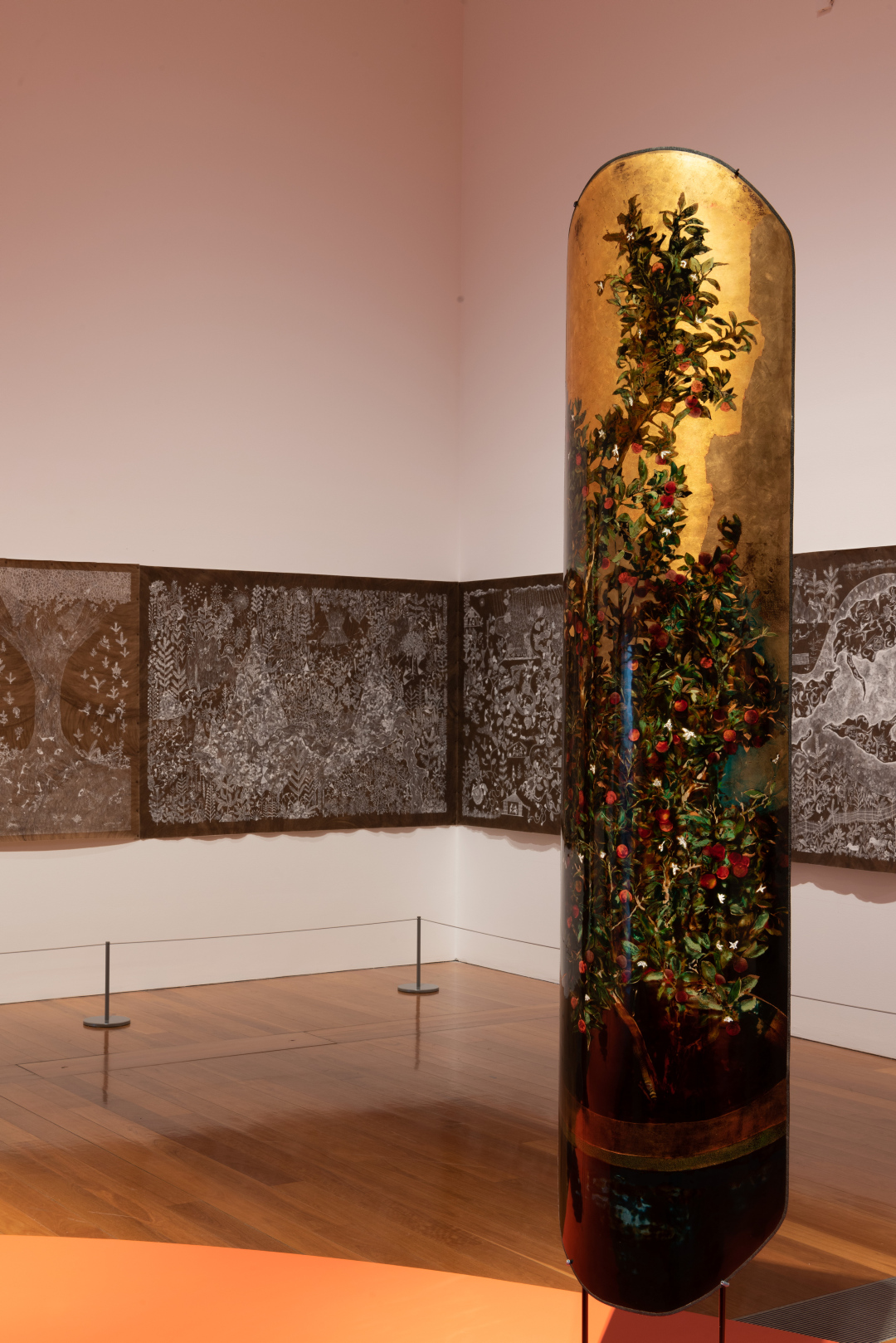 Courtesy Queensland Art Gallery.
Courtesy Queensland Art Gallery.
Installation of 6 sets of antithetical couplet paintings, sơn ta lacquer painting on wood. 12 Units, 215 × 50 × 04 cm / unit.
Statement
This lacquer installation is inspired by the tradition of "hoành phi câu đối" (or antithetical couplets) in Vietnam and explores the possibility of adapting a more radical form for a fundamentally changed society.
"Câu đối" are antithetical Hán calligraphy couplets that traditionally frame the alter space of a home or flank passageways to mark the type of space, and shape behavior within this space. One of the main uses of these couplets is to memorialize heroes, events and or deeds that make up the history of a family lineage or tribe. They were used to reinforce pride of place and record history in an agricultural society where attachment to community and land is particularly important.
The twelve boards that comprise Fissio are created with the traditional medium based on the traditional format of "Câu đối". The panels are created with Giổi bắc wood in the craft village of Sơn Đồng (Hoài Đức) specialized in wood carving including making "Hoành phi câu đối" for temples and communal houses and curved to fit around a column. They also lacquered with Sơn ta natural lacquer to protect and beautify the wood. This resin, indigenous to North Vietnam, was re-invented as a painting medium in the 1920's. This was a major shift in the use of this lacquer. Prioritizing the image over functionality opens up the possibility of symbolism and self-expression through this medium essentially creating the figure of the lacquer artist in differentiation to the village artisan. This shift from lacquer craft to lacquer painting as "Art" also coincides with the change from Hán Nôm, Sino-Vietnamese ideogram based writing, to chữ Quốc ngữ, its current Latin based alphabet as the national writing system, all consolidating during the French colonial period, also representing the beginning of major ideological shift in Vietnamese society.
Fissio, instead of being calligraphic boards inscribed with Hán Nôm couplets are lacquer paintings in which original couplets have been interpreted with images.  This project proposes a continuation in the form "Hoành phi câu đối" in Vietnam through painting especially at this time when neither Han script nor Hán Nôm can no longer be read by the general population. Through this traditional framework several lines of exploration are proposed…
It is generally accepted that "Hoành phi câu đối" is a fixed tradition without further inquiry into its roots, or how it encodes information and reproduces ethics and morality in the observer.  In reading over thousands of antithetical couplets translated into modern Vietnamese, I note the traditional couplets present a world view entirely Confucian and feudal in nature that is often contradictory to an artistic research project in the contemporary sense.
Therefore, each couplet pair is treated as a meme, a means of cultural reproduction in which the lacquered board and calligraphy is the physical medium and unit through which cultural transmission is passed.
Memes represent units of cultural transmission, and Fissio tries to tackle the type of iconography presented. Each image reproduces but also extends, reinterprets or even misrepresents the original meaning.
The name Fissio is borrowed from biological fission, the division of a single entity into two or more parts and the regeneration of those parts to separate entities resembling the original.  It is a declaration of intention that the knowledge base for this work will be biological and evolutionary in character.
Because lacquer as painting is relatively new, there are open questions of what can be represented by the medium and how it represented medium.  Lacquer as a process is unique compared to other image making mediums, the resulting image presents qualities unique to itself that can be further explored as studio work.  I am interested in realism and mimesis and the process of lacquer to seemingly become the skin or object beyond mere illusion.  The works in Fissio explore this effect.
Work commissioned for the the 10TH Asia Pacific Triennial of Contemporary Art (APT10).